Beautiful Losers
Poster and Promotional Design
2008

Beautiful Losers is a feature-length documentary film that traces the history of D.I.Y. culture, skateboarding and street art. Directed by curator and artist Aaron Rose, the 2008 film features artists Ed Templeton, Harmony Korine, Mike Mills, Barry McGee, Chris Johanson, Geoff McFetridge, Jo Jackson, Margaret Kilgallen, Stephen Powers, Thomas Campbell, and Shepard Fairey.
I was introduced to Aaron in 2006, when my friends Lenny Mesina and Fernando Villena were selected as the editors on the film. The production team rented a house on Manzanita Street in the Silver Lake neighborhood of Los Angeles to serve as home base for the production.
Having grown up around skateboarding, and already being hugely influenced by these artists, I would start visiting the house every so often. One day Aaron asked me to create a simple invitation to an early screening, followed by the poster for the film.

At some point Aaron had mentioned a butterfly as a symbol of these artists' journeys. Metamorphosis as a metaphor. The final image on the poster is not just a butterfly. It's the artist, it's an explosion of creativity, it's synapses in the brain, it's all those tags, paintings, and board graphics, combined into a big, feverish mass of color and form.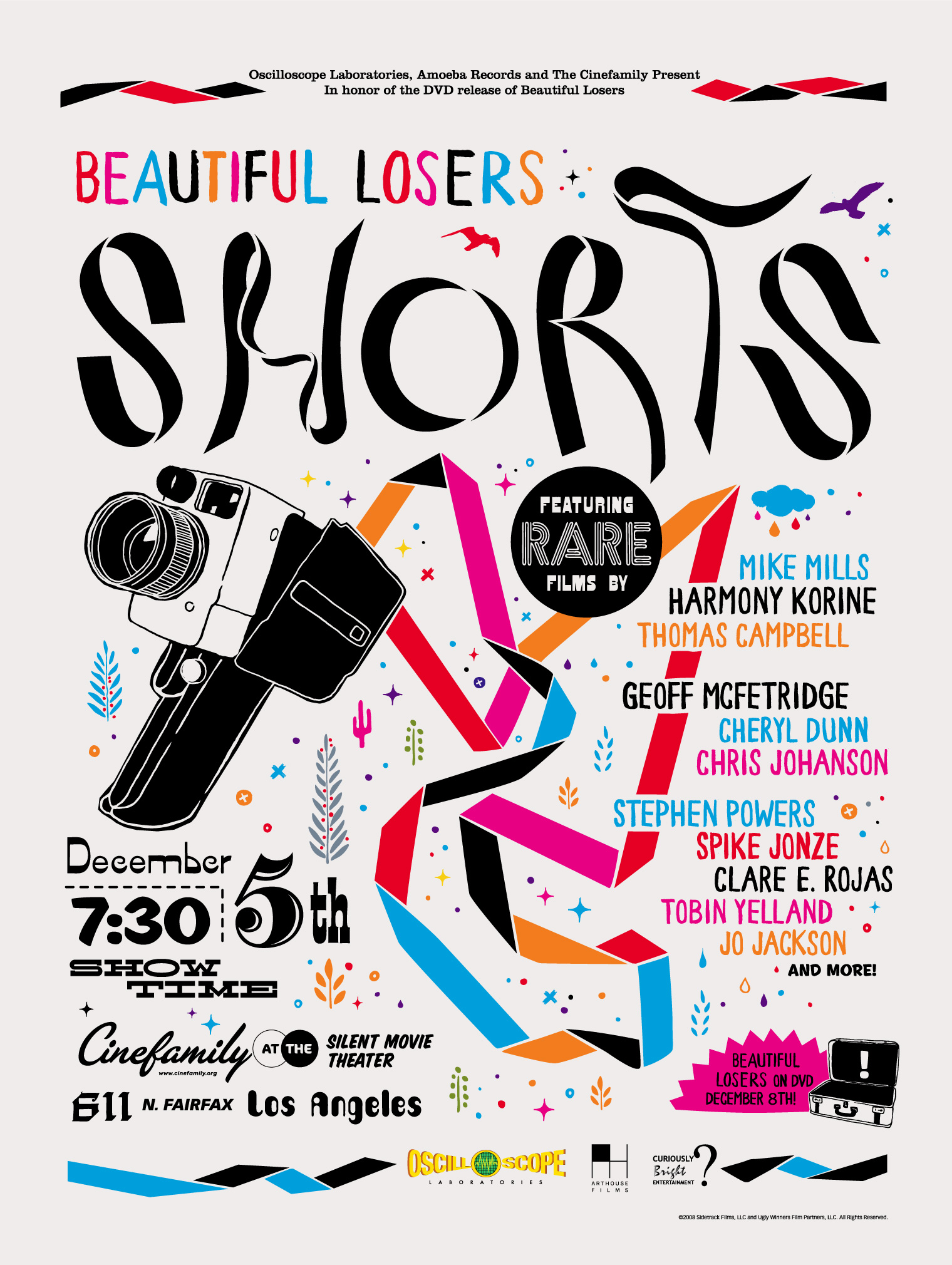 The poster was just the beginning. I would be tasked with applying the Beautiful Losers brand across hundreds of items in promotion of the film. There were screenings all over the world and even a set of workshops conducted by the artists themselves.


10 years later, the fun continues. We recently built

Raw Footage

, a website with extended interviews, branded a

RVCA clothing line

, and even designed

socks

. I'm lucky to have been, and continue to be, part of it all.
Credits
Design Keith Scharwath
Directors Aaron Rose, Joshua Leonard
Executive Producers Ravi Anne, Jared Moshe
Producers Jon Barlow, Rich Lim, Arlo Rosner
Beautiful Losers Logo Typeface Geoff McFetridge